I have been a professional designer / vector artist for over 30 years now with such clients as Samsung and the NFL and am one of the original artists for Classic Playfield Reproductions. I am a MASTER in Corel, Photoshop & Illustrator since the early 90′s, having designed 1,000′s of vector logos throughout the years. I am a perfectionist and LOVE DETAIL! The Stencil Kits available on this site are the best you will find anywhere! PERIOD!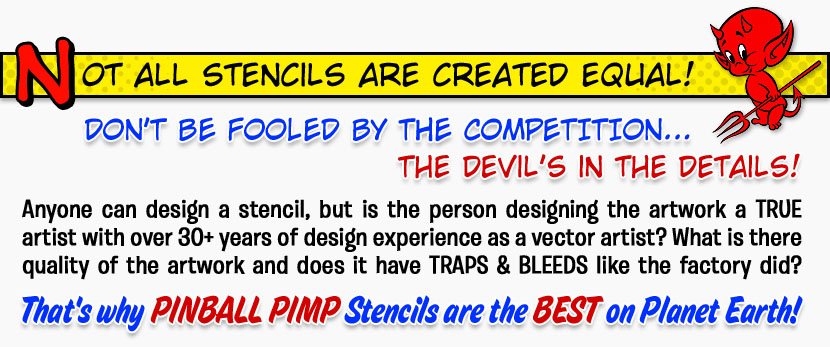 Pinball restoration has been my hobby for the past decade and have done over 100 Hi-End Restorations on some of the most classic and sought after late 70′s, early 80′s and WPC games from Bally, Williams & Stern. When doing all of my restorations, I decided to design my own cabinet stencil artwork since the only artwork available was inferior to what I was capable of designing myself. On this site is a collection of my own cabinet art for Bally, Williams & Stern pinball titles. All stencils were designed with fine detail resulting in near PERFECT ARTWORK while staying as true to the Original Factory Cabinet Art as possible. If needed,  subtle updates were made to make the art look even better. ie. color traps, smoother curves, perfectly straight lines & parallel lines corrected.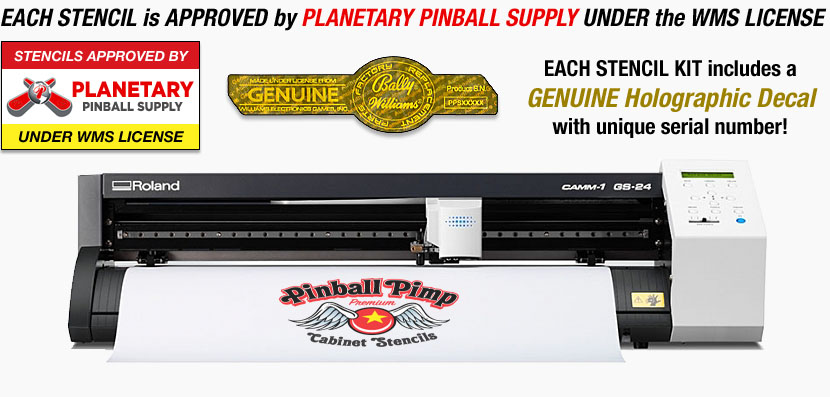 Each Stencil Kit is CUT ON DEMAND using fresh material… not rolled and sitting on a shelf for 2 years! Each Kit is precision cut on hi-end Roland plotters using the Original Master Art File for each title. Stencils are cut on Low-Tack, Premium Vinyl Painters Mask which makes it ideal for use in painting cabinets with a variety of different paints. Stencils are clean release with beautiful results every time!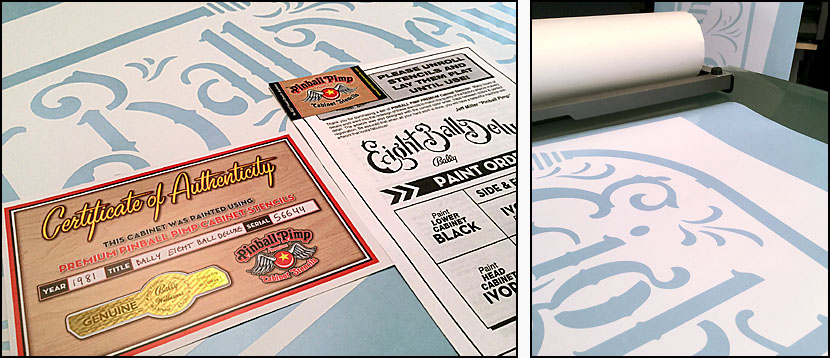 • Each Stencil is designed using a 1:1 SCAN of the Original Cabinet Art! I DO NOT USE DISTORTED PHOTOS!
• Each Stencil goes thru 10-20 HOURS of Detailed ART CLEAN-UP before becoming a Master Stencil!
• Each Stencil is designed with CORRECT Factory Traps & Bleeds!
• Each Stencil is designed with CORRECT Order of Paint Layers!
• Each Stencil Kit comes with REGISTRATION SYSTEM to Lineup Art Perfectly the 1st Time!
• Each Stencil Kit comes with LABELS for CORRECT COLOR + PAINT ORDER
• Each Stencil Kit comes with DETAILED INSTRUCTIONS for Great Results!
You can do a spectacular job painting your cabinet but it's only going to look as good as how well the artwork was designed. Be ASSURED that once your cabinet is painted using Pinball Pimp Cabinet Stencils, you will not be disappointed in the final artwork!